Organizing of online payment systems for mobile and public facilities with self-service payment terminals
Payment servicing clients of mobile, telecommunication providers and utilities, who make payments monthly, weekly or time-to-time needs optimal technology, which help to cut down expenses and to open points of payment reception in accessible places: supermarkets, shops and airports. Now special prepaid cards are widely used in many countries, these cards sell in shops and supermarkets. But prepaid cards are inconvenient for operators and for clients, as:
It's necessary to produce cards and to manage their logistic
Prepaid cards have only fix nominal
Payment process with prepaid card is rather long (you need to clean secret code, write sms and etc.)
That is why operators and providers are interested in getting a new convenient technology instead of prepaid cards. It is rather interesting to analyze an experience of Russian Federation and CIS in this question. Russian market of payments for mobiles and public utilities had a great transformation for 2-3 years. Now there are few prepaid card, but a lot of self-service payment terminals. About 50% of all payments for mobile and internet and about 30% of all payments for public utilities go through self-service payment terminals. The process of payment looks like so: client comes to terminal, input his phone number (payment for mobile) or his address (payment for public utilities) and make a payment for necessary sum – he can use bills, coins or payment card. Change from payment client can get by coins or make a new payment for his mobile phone or to his internet purse (webmoney, eport and etc.). After that terminal sends payments to payment processing server and server sends them into billing and accounting systems of payment recipients (mobile operators, public utilities companies and etc.)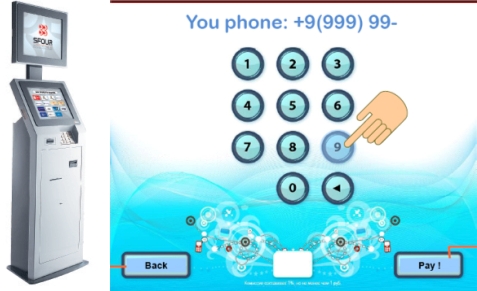 Interface of payment terminal
Self-service terminals have these advantages over prepaid cards or payment through bank office:
Terminals can be installed in places where clients go every day (shops, stations, office centers and etc.)
All payments execute instantly
Terminals are not expensive, average price is about 2500-3500 USD for terminal – it helps to save on staff salary
Terminals work 24x7
All terminals services are high-quality, risk of staff swindle is minimum
There is a central online processing payments server for terminals solutions. It concentrates all payment information and statistics. Terminals are connected to server by internet (network, ADSL, CDMA, GPRS and etc.) Main parts of self-service terminals are:
Touch screen monitor 17" for functional interface
Bill-acceptor or coin-acceptor
Bar-code reader for payment documents
Card reader and pin-pan for cards support
Printer for check
Modem for internet connection
Usually clients make these types of payments through payment terminals:
For mobile phone
For internet access
For public utilities
For penalties
For banking products
For tickets
And for postal orders
Often businessmen use terminals as replacement of cashiers to make one main type of payments: for education fee, for medical care and etc.
Some banks use self-service terminals as an additional channel for payment acceptation additionally with ATM, pos-terminals, mobile and internet banks. Self-service payment terminals allow to replenish the bank account by cash and make complex payments through functional sensory interface.
Now there are a lot of commercial companies and banks use self-service payment terminals for making new business in Russia. They get about 2-3 % as a commission of payment from terminal client and 1-2 % as a commission of payment from payment recipient (mobile operator, internet provider and etc.). In Russia average turnover per month from one terminal is about 20 000 USD, and an owner of terminal gets about 1000 USD as income monthly. Investments for terminals projects are recompensed in one year – it's rather good financial criteria. In Russia quantity of payments through terminals increases in spite of economical crisis. There are more then 200 000 self-service payment terminals in Russia. Last year some similar projects were started in CIS, East Europe and Asia. In these projects suppliers of terminals solutions are Russian production companies, who can supply complex terminal solutions in other countries.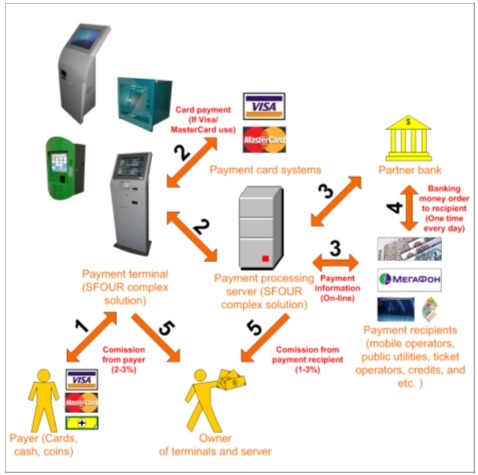 Organization process scheme of payments reception with SFOUR self-service terminals
SFOUR company works as a supplier of complex self-service solutions for payments from 2003 and realized some hundreds projects of managing self-service terminals networks in Russian Federation and other countries. SFOUR produces full line of self-service kiosks and terminals production (indoor, outdoor, built-in solutions). Clients can pay by cash, coins and cards (Visa, MasterCard, local cards systems) in SFOUR terminals. SFOUR production was certified for ISO 9001:2008 support.
In Russian Federation and CIS market SFOUR works with the biggest banks like Sberbank (the biggest bank of Ukraine), Privatbank (the biggest bank of Ukraine) and with more than 70 Russian and CIS banks.
SFOUR company offers complex software solution for local payments reception system development SFOUR PayBox – this system allow to configure new payment recipients by payment terminal owner. Client can pay for necessary facilities by input payment information true sensory monitor. SFOUR solution support ISO8583 and NDC+ protocol for cards payment and was certified by Visa and Mastercard processing partners.
SFOUR software solution can be integrated into bank information system infrastructure and work with ATM and internet bank solutions.
As a leader of self-service payment solution SFOUR offers new projects realization in other countries. SFOUR are ready to consulate and help to clients in adaptation typical solutions for local markets. SFOUR specialists can go to your region for negotiations and presentation SFOUR solutions. SFOUR solutions were certified and clients successfully uses them in Russia, Ukraine, Belarus, Kyrgyzstan, Bulgaria, Latvia, Mongolia, Syria and other countries. SFOUR company are ready to make joint projects with commercial companies and banks in different countries.
Thus, using self-service terminals for payments reception is a very perspective business direction. Payment terminals and kiosks will change prepaid cards and payments in bank office in the near future, as terminals can be used in convenient places, which clients visit every day (shops, stations, business centers and etc.), terminals work 24x7, they cut down expenses and have multi-languages interface. Described technology is widely used in Russia and CIS and very effective their. SFOUR company can introduce complex software and hardware solution for payments with processing server and terminals in it and organize service support in your country.