EasyCard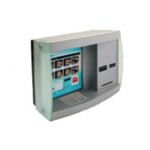 Terminal SFOUR EasyCard is a specialized solution for wall use. It can be used in projects where it is important to save the space occupied, as well as the possibility of an organic place in the existing terminal office.
The terminal is designed to introduce clients to opportunities for working with cash payments and payments using bank cards. The terminal can be used in information solutions, as well as solutions to provide access to Internet banking.
A convenient arrangement of working space.
Optimization Services.
Locks a high degree of protection.
Decorative glass panels from the heat.
Double color in any color.
The possibility of causing images and logos in the paint or the manufacture.
Connecting to the network: network card 10/100Mb. Ability to set the modem to connect to a phone line, GPRS, ADSL, WIFI.
Small dimensions.
Ability to work with bank cards
Function buttons
Ability to set validotor
Ability to set the bar code reader

ORDER A CONSULTATION