Xtended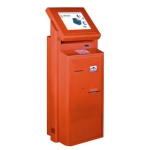 The terminal is suited for projects that need a simple and effective solution for receiving payments. The terminal is easy to service thanks to the modular organization of parts and a separate access to the major sites.
Safe mounting to floor with barb bolts through the foundation with width of 10.
Coloring using any color.
Separate access to the major sites.
Capability of image and logos application during coloring and manufacturing.
Divided sections for equipment access.
Network connection: network card 10/100Mb. Capability of modem installation for phone lines GPRS, ADSL, WIFI.
High level of security locks with nogging system of blocking.
Capability of lighting pane assembly
Capability of bar-code reader assembly
Capability of the second monitor mounting

ORDER A CONSULTATION