Payment system and self-service terminals application in Kyrgyzstan
Now online payment systems and self-service payments terminals are widely used not only in Russia, where this technology was first applied, but and in other countries. In this projects businessmen use solutions by Russian firms and developers, because these solutions were tested in Russian market. SFOUR company is a complex payment solutions supplier and supply SFOUR solutions to Russia and other countries (Ukraine, Mongolia, Bulgaria, Syria and etc.)
As an example of payment system and payment terminals network organization in new country by SFOUR we can describe project in Kyrgyzstan. Complex solution for online payments for mobiles, utilities and banking payments (credits repayments, cash deposits) was applied in this project. This project was applied by SFOUR for Kyrgyz bank KICB. Aims of projects were:
Online payment system for mobile phones organization
Credits repayments reception
Cash deposit replenishment
Utilities payments by receipt reception
Self-service terminals are effective technology of client service organization. Terminals in comparison of standard cashier have next advantages:
Service standardization and quality guarantee
24x7 service capability
Reduction of outgoings for salary and dues
Fraud risk reduction
Multi-languages service capability
In describing project KICB-bank specialists choose self-service terminals for online payments service organization as self-service terminals are widely used for making payments in Russia and CIS. It is very important that in appliance of terminals clients can make online payments without prepaid card, because prepaid cards using are uncomfortable over fix nominal and logistic need.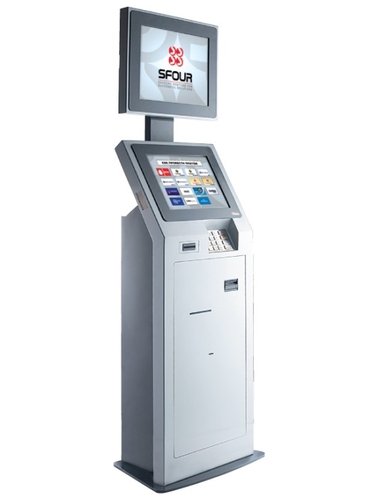 SFOUR Payment terminal
SFOUR is a Russian development and producing company offers complex solutions for making payments systems organization with payment terminals and cash desk appliance. SFOUR solutions are widely used in Russia, CIS, Asia and East Europe countries. Next SFOUR solutions were choused for Kyrgyz project:
Payment server SFOUR Alternative allows to configurate and connect new payment recipients and make payments online processing
Payment terminal SFOUR Eco with sensory monitor for user interface interaction, with bill acceptor for cash acceptation, with printer for check printing, with barcode scanner for receipt scanning, card reader for cards acceptation and with pin-pad for pin-code entering. There is a GPRS/GSM-modem for network connection.
Payment terminal software module SFOUR PayBox for devices management and for clients payments and data reception
Optional software module for cashier desk allows to accept payment by simple PC in banking offices or shops
Monitoring and terminal network management server SFOUR EventWatch with remote terminals administration functions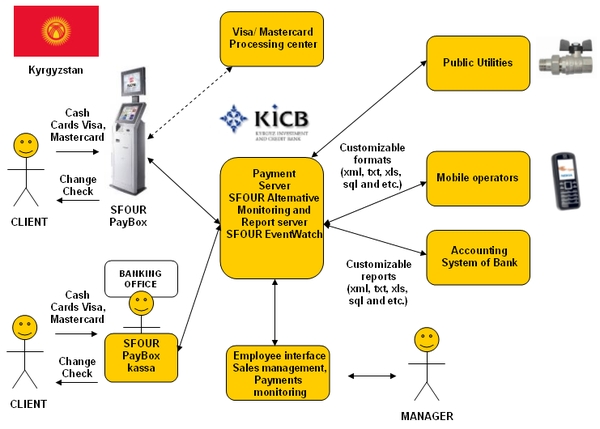 Scheme of payments reception organization in Kyrgyzstan
There is a scheme of payments reception organization in Kyrgyzstan on Picture 2. These works were done by SFOUR during project realization:
SFOUR software solution was inculcated
User interface was translated into Kyrgyz language
Terminals were adapted to Kyrgyz currency soms acceptation
Payment server was connected to three mobile providers billing systems for online payments
A network of some payment terminals was created
Technical support service was found
SFOUR specialists trained KICB employees to work and service payment system and terminals
Complex solution for online payments with payment terminals in Kyrgyzstan come out of described project. Online payments through self-service terminals are very convenient for bank clients, who can make payment all time a day and in case of placing terminal on supermarket clients make payment in convenient place. Now project in Kyrgyzstan develops quickly. In additional to cash transaction there will be Visa and Mastercard support.
Thus, payment reception though self-service terminal is a vere effective technology to make payment service with online support for clients. SFOUR company has a big experience in payment solution projects achievement in Russia, CIS , Europe and Asia. SFOUR are ready to offer complex project adaptation to specific country and locally realization.