Automatic cash register and self-checkout
The automatic cash register solution offers a hardware and software complex that allows customers to pay for their purchases themselves in cash or by bank card, completely replacing a cashier and allowing an automatic process for paying for purchases in a variety of types of stores.
---
Automatic cash register
touch screen 17"
bill dispenser
recycler assembly optional
возможна установка ресайклера
pin-pad
card reader
bar code reader
web camera
check printer
coin receiver
change return
Where the automatic cash register can be used:
Wholesale and retail stores (without bulk goods)
Enterprises offering various services:

medical establishments
transportation companies
the entertainment industry
automatic services
automatic gas stations
parking lots
beauty salons
and others

Payment points for internet stores
---
Self-checkout
touch screen 17"
bill dispenser
recycler assembly optional
pin-pad
card reader
bar code reader
web camera
check printer
coin receiver
change return chute
electronic scale
web camera (optional)
stand for wrapping packages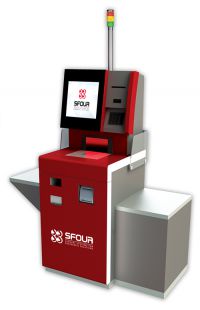 Where the Self-Checkout can be used:
Retail, wholesale, and light wholesale chain and independent grocery stores (with bulk goods)
Building materials stores
Book stores
---
The software Is integrated with the store's existing cash register system and performs these functions:
Monitoring all payment operations
Monitoring deferred payments
Collection control
Monitoring the state of each station
Sharing user rights
Control mechanism for deferred payments and synchronizing them with accounting for the Automatic Billing System
Remote control and management
Remote adjustment of settings
Connection to client's database
Ability to align with client's interface
Support from protocol ISO8583
---
Advantages of the automatic cash register and self-checkout:
Complete replacement of a cashier
24*7 availability of the cash register
Universal solution for automatic cash intake and issuance of change
Verification of bills for authenticity
Online monitoring of cash received
Prevention of any sort of error or swindling of the cash registers
Queue regulation
Increased customer loyalty
Reduced expenses for collection
Takes up minimal space
---
Smartphone application for product scanning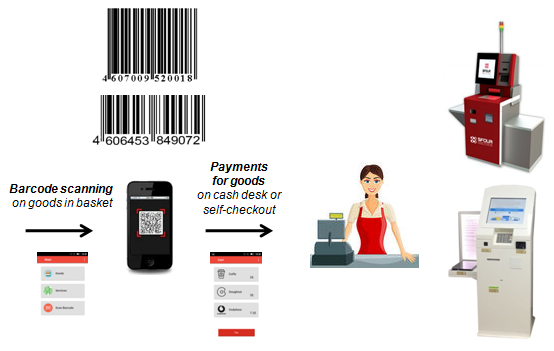 Barcode scanning from goods to card
Getting additional information about goods
Getting special offers
Client activities tracking and recommendations
Payments by e-money, phone balance, QR and NFC
---
These can help protect from customer theft:
traditional store security
video surveillance and protective housing
check scales at cashier stand
---
In this way, introduction of self-service terminals for replacement of standard cash register stations in stores, restaurants, parking lots, and other retail business enterprises allows a reduction in the number of errors and increases efficiency in serving customers by lowering overhead expenses. Customers have already become accustomed to making payments for cell phone service and utilities through terminals and are ready to pay for goods by means of self-service devices.
The SFOUR company offers a comprehensive hardware and software solution for providing cash register services through self-service terminals, by integrating operations and arranging support for this solution.
---