Wave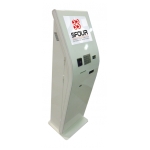 Wave has special advertisement features aimed at increasing both the efficiency and the transactions flow. The kiosk provides all the popular payment functions, thus it can be used at many various projects.
Organized components Face recognition and customer statistics
Both EMV and NFC cards support
Biometric identification
Capability of image and logos application during coloring and manufacturing.
Network connection: network card 10/100Mb. Capability of modem installation for phone lines GPRS, ADSL, WIFI.
High level of security locks with nogging system of blocking.
Capability of lighting pane assembly
Capability of bar-code reader assembly
Capability of the second monitor mounting

ORDER A CONSULTATION