Self-banking terminals
Development of bank retail service sector, in particular retail banking, has recently become a consistent trend. Advances portfolio on such services as consumer, mortgage credit lending are expanding, the volume of individual depositing is increasing, both the number of credit card holders and credit card payment turnover are growing. Potentially high profitability of retail banking attracts more and more participants to this segment.
---
And it is quite evident that one of the most essential competitive factors taken into consideration by a client while choosing a bank is the infrastructure development and availability of the bank product facilities. Multiple branches, convenient working hours for cash desks and absence of queues -- these are the factors that can influence the client's choice of bank. It is obvious that building and developing bank infrastructure requires considerable amounts of financial and operational resources and takes a lot of time. However, extensive expanding by opening additional offices and branches is objectively limited which brings out a necessity for intensive development. One of the latest trends in this development approach are automatization of standard bank transactions and implementation of automated client self-service systems.
---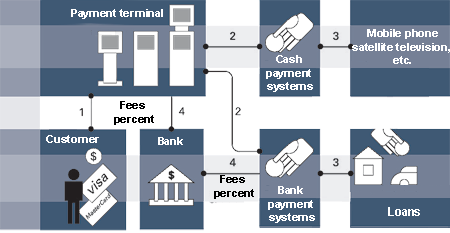 ---
SFOUR company offers an integrated solution based on the same hardware and software which allows not only to develop and provide for the clients a package of bank accounting services but also to expand this package in the way that those services become available both to actual and to potential bank clients.
This solution implies construction and operation of a network of bank self-service terminals. Depending on the type of software used, these terminals will enable the clients to carry out standard settlement transactions both in cash and using bank payment cards. And in this, such bank transactions could include both internal bank transactions and payments made to external receivers which use SFOUR PayBox solution. Implementation of the SFOUR EventWatch remote monitoring system makes it possible to provide for remote control of terminal network components which will undoubtedly improve the network efficiency.
---
Unique is the technical possibility of direct integration offered for transactions which are carried out through terminals into a bank's internal information system and processing center by using standard data communications protocol ISO8583, NDC Adwanced, DDC.
It may turn out quite useful to implement a combined solution for cash acceptance and distribution which is an integrated complex consisting of a self-service terminal and a cash distribution module. This solution provides for a complete cycle of transactions carried out with cash and payment expanding the range of the terminal capacities to include functions of all-purpose cash dispenser machine.
---
The main services offered for bank institutions which install payment terminals include the following:
providing clients with services on their bank cards;
the possibility of integration and supplying bank services proper;
development of a credit reimbursement system;
development of a credit granting system;
the possibility to make payment in favor of cellular communications operators and providers using an electronic payment system or a bank payment system;
the possibility to carry out funds transfer
---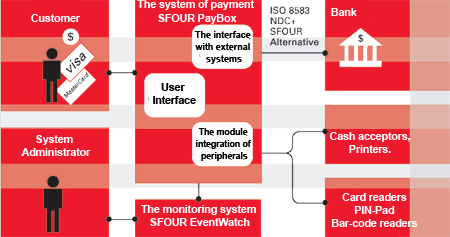 ---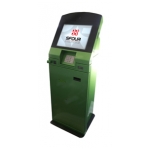 Eco Neo model is equipped with 19" touch capacitive screen, toning of the entire top panel with shockproof glass gives the terminal stylish modern look and provides absolute tightness and protection against liquids. In contrast to standard models of payment terminals, the service and cash collection in Eco Neo are now done separately. Upper door of the service area of the Eco Neo terminal is equipped with gas-operated holders; all components are located in dedicated niches
The front panel manufactured of steel with width of 2mm represents a very suitable user's workspace. This terminal will perfectly match with bank offices, hotels, cinemas, and commercial centers interiors; anywhere, where image is a pressing factor.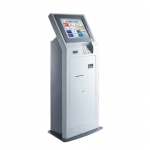 This terminal is designated for the usage in those cases, when simple and qualitative solution is required. The terminal differs from others by its minimal dimensions with capability of installing various equipments.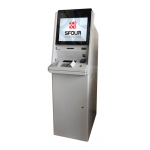 Cash recycling Arete ATM is an integrated solution which brings the use of an ATM to a new level. The solution suits for both individual customers operations and business services, such as cash collection at retail stores. Optimal components installation and design of the service zones allow minimizing the machine maintenance time thus making it super effective. Arete ATM can be used as Virtual Teller Machine (VTM) for full banking service.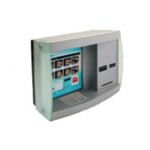 Terminal SFOUR EasyCard is a specialized solution for wall use. It can be used in projects where it is important to save the space occupied, as well as the possibility of an organic place in the existing terminal office.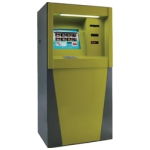 Separately installed all-weather terminal SFOUR Outhall is a convenient solution for mounting outdoors. The terminal provides high thermal insulation shell, allowing operation at temperatures down to -40 C. Double-heat the glass and the additional protective coating shell reliably protect the unit from vandalism. Modular service allows you to minimize the time of the service works in the open.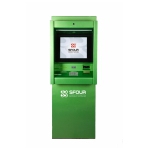 Weatherproof in-wall terminal SFOUR Inwall allows to significantly increase the number of installation sites for payment terminals through the capability of on-street service. The terminal is provided with specially designated climatic system allowing to work in temperature conditions of 40º to +40ºC.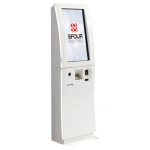 Elegant is a kiosk which can act as a full-scale self-checkout cashier and as an ordering kiosk. The capacious case allows equipping the solution with all necessary parts for modern payment and checkout.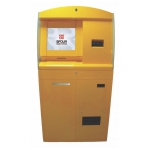 The terminal is suited for projects that need a simple and effective solution for receiving payments. The terminal is easy to service thanks to the modular organization of parts and a separate access to the major sites.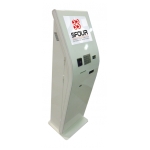 SFOUR Wave kiosk is a solution which combines innovations in design and customer service. Due to its ergonomic design, the kiosk provides an excellent user experience for both information services and financial transactions.
---